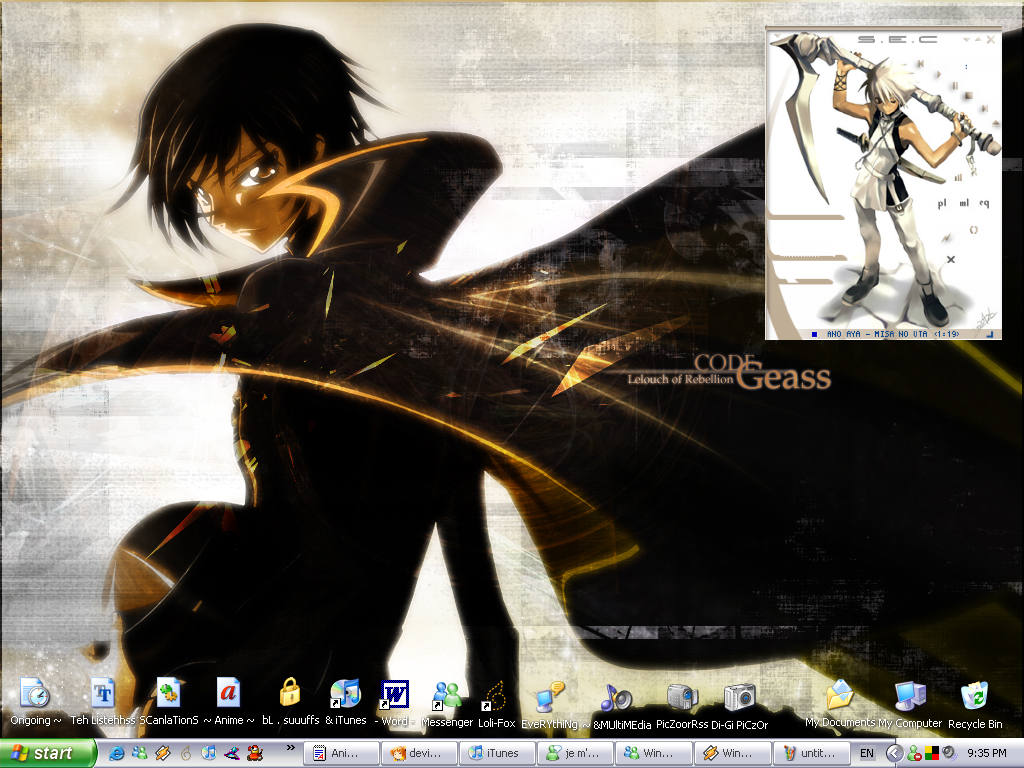 My September desktop. (Actually I changed it over three weeks ago … but I forgot to post it XD)
Finally, after almost 4 months, I've decided to change my wallpaper to something un-Death Note related to Code Geass' Lulu Lelouch Lamperouge-chan! Because of that fact that I see this everyday 24/7 I can't help but get impatient for season two of this extremely epic show. T_T The wallpaper itself is enough to remind about CODE GEASS' ending … which I really really don't want to think about. Just thinking about makes me scream 'I HATE CLIFFHANGERS!!!' If I ever watch another end like that I'd die.
*cough* On the top right corner, we have my winamp player! Yay! x) I changed its skin from the DNAngel skin I've had to this one … er … I don't know where its from though' ==; It'd be nice if someone told me.
Anyways, October is approaching quickly … so I'm probably going to have a new one in less than a week. Not sure what I'll change it too this time … but, since its Halloween month I'll try to put something adequate without it being scary. ==; I'm quite the scaredy cat about horror things after all .. despite how much I love Halloween.
-
P.S; I don't remember where I got this wallpaper nor do I remember where I got the winamp skin. Sorry.