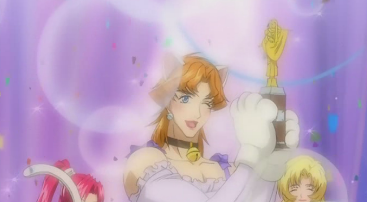 Miss Biceps, ftw
To start things off … LOL@BADOMENBIRD! Gods, I've got no idea why I love that bird so much. Anyways, this OVA takes off BEFORE the events of the first OVA … their having a huge celebration or something like that. Personally, I think this episode was made to force Wolfy in a 'meido' outfit.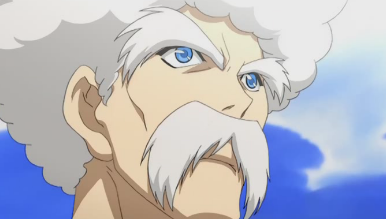 HAHAHA!OLD MAN YOZAK! *gigglesnort*
I have no idea if I'm enjoying this OVA because I'm on crack or  if the OVA is just plain good. I think I'm on crack though … I don't normally enjoy KKM's virtually nil cliché plot. The only reason I STILL watch KKM is for Wolfram. KKM is NOTHING without Wolfy. *nod*
BTW, I still HATE HATE Greta. That little chibi-brat! I REALLY REALLY REALLY HATE HER! She's such a useless and pointless character. YUURI GO MPREG WOLFY NOW!!!! :(:(:(:(:(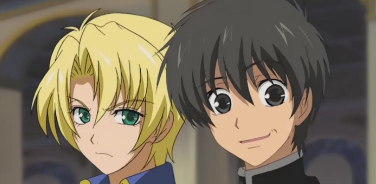 Is it just me … or is the animation just real pretty? *huggles Wolfy's expression*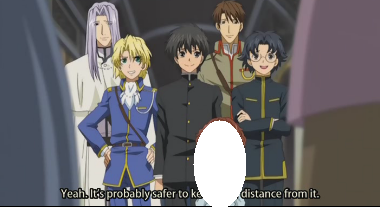 -shot- Wolfy's pose is like …OMG! *dies*
(Damn, I 'MOE!' at such weird things don't I? I 'MOE'd practically everytime I saw Wolfy. It's not even funny anymore *stares at Wolfy's waist* Yum)
((BTW, I have a fetish for Uke Waist so STFU))
BEST. SMILE. EVA! -shot-
(Well, at this second it is)
*drools*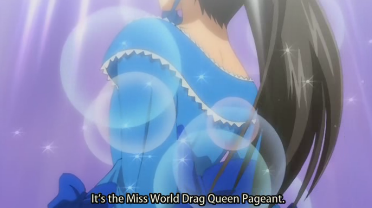 *drools*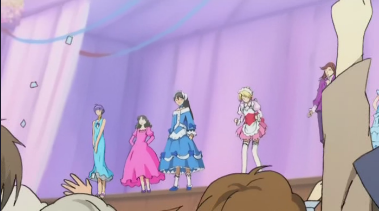 I was kinda expecting more out of this scene … but oh well. I'm pleased enough with the fact that Wolfy was wearing a mini-skirt. Too bad we don't get any full-body shots of it. I want my WOLFY FANSERVICE!!
I was totally expecting Yozak to win. Srsly, he's the master of Crossdressing. Wolfy looks kind of jealous in the screenshot tho' … KAWAII SUGI!!!! -dies- By the way, is it just me or does Wolfy look like he has boobs? Yum. I'll bet they forced him into a bra *fantasizes*
((Yuuri doesn't look half bad, honestly))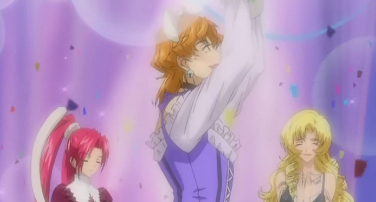 MISS BICEPS PWNS JOO!!! XD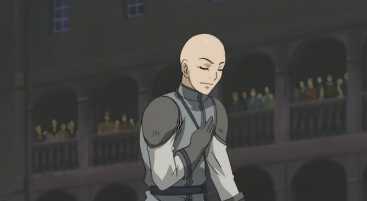 Did this guy always talk like a 'gunsou'? He went Keroro all of a sudden. O_o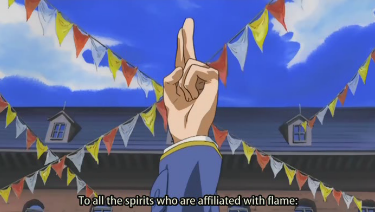 BANG!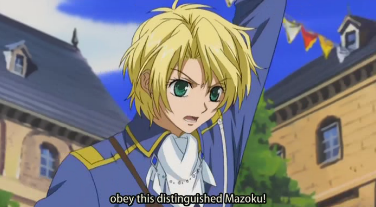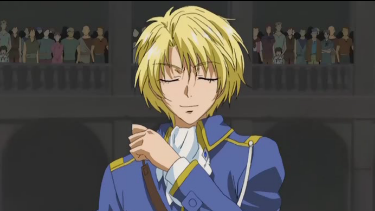 Wolfram is SO AWESOME that I took FIVE screens of him in the space of a minute. I love seeing him kickass! <3
( Ken-chan's reaction when he noticed Yuuri had disappeared made me giggle and I don't even know why)
HAHA! MAOH MODE DA!!! XD He's going to blond any second now, I swear it. LOL (now, I have the sudden urge to watch DBZ)
In that last scene were Yuuri was talking to the Crimson Chin (Adelbert) I couldn't help but scream "FULL UKE DA!" again. -shot- Also, the horse's shaking ass is still disturbing me somewhat.
*Judgement
Nice way to end the OVA, lol. I knew it had to come.
- NEXT OVA!?
CHIBI SHINOU?! SAW WHUT?!
AND …
WOLFY RAPING YUURI?!
Oh my god, I'm not stopping you Wolf!! GO FOR IT! (Lol Seme Wolf? Funny)
(EDIT: Yeah … Okay, I was on total crack when writing this post, excuse my silliness XD)