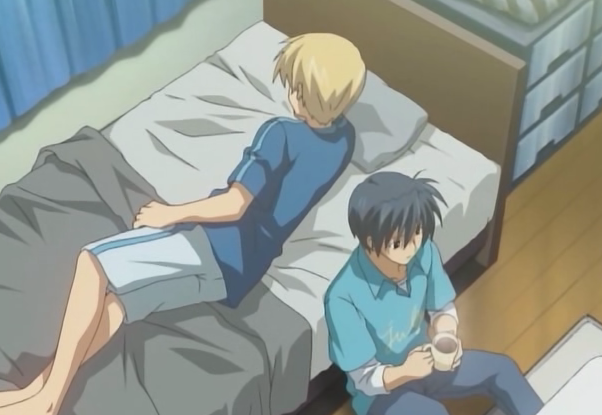 Smart Sunohara? Scary, very scary.
 Do you know what pisses me off? The fact that I am slowly actually starting to like Tomoya and Nagisa together. THIS IS KYOANI'S FAULT! Well, it isn't the fact of liking them TOGETHER but more the fact that I like the embarrassed and flushed face that Tomoya does around Nagisa. If only he can be the same way around Sunohara -cries-
Speaking of Sunohara, has he always been that smart?! I don't like it. I'll bet he's jealous Nagisa's taking Tomoya away from him so he said something nice out of spite. Did that make sense? No, probably not. Well, actually, I think Sunohara said all that because he really does care for Tomoya deep down and just wants him to be happy. Or something. T_T Either way, Sunohara definitely has his moments. TomoyaxSunohara, ftw!! <3
Yeah, I'm totally in love with this shot. Akio's just a fucking awesome character. I wish he were my Dad. -cries- (I really wonder what Akio's dream was …)
CHARM OF THE EPISODE!!!!! 
K.OOOOOOOOOOOOOOOOOOOOOOOOOO'd
 I could re-watch that scene over and over again and it would STILL manage to make me squee. Tomoyaaaaaaaaaaaaaaaaaaaaaaaaaaaaaaaa <3
-
Apparently there are only 2 more regular episodes left of CLANNAD! Somehow, this all felt really short-lived. I never realized time passing when I watch CLANNAD and I'd always be like "ALREADY?!" whenever "Dango dango dango dango …" started playing.